India's Experimental Underground Vol. 1
Producer and curator Rana Ghose is an important reference point of New Delhi's nascent underground scene. He is part of the collective REProduce and organizes Listening Room Sessions: interventions in non traditional spaces as former mills, bakeries, hotels or abandoned places. With the SoundCloud Playlist he curated for Norient, he introduces a new generation of exciting artists from New Delhi, Mumbai and Bangalore between noise, electronic music and experimental.
Over the course of curating and producing a series called REProduce Listening Room, I've had the good fortune of being sent music spanning all kinds of genres on a fairly regular basis. Here's an attempt at providing some examples of what comes my way. Most (but not all) of these acts are either quite young or yet to enter the mainstream booking circuit. On the one hand, I don't think any of them are really in a position to play it safe artistically to get the kinds of gigs that dominate the nascent «scene» here. Also, most people haven't heard these artists and have no idea who many of them are. Though, I suppose that will change. Most shows are still going down at what are essentially restaurants, spaces that cater to a certain clientele and «safe» expectation in terms of music. But of course, whatever «safe» may present is, thankfully, always up for reassessment. There is a certain momentum of people putting on their own shows outside of these spaces, and in doing so, there is a sort of new confidence that younger artists possess. Many of the acts here come from those arenas. Consider this a kind of insight into a distinct generation; the process of becoming jaded due to commercial artistic compromise is not reflected here.
Rana Ghose about why musicians in Delhi need a space to experiment as the Listening Room:
Rana Ghose about creating an audience and a community by organizing the Listening Room sessions - and why he trusts the power of pop culture: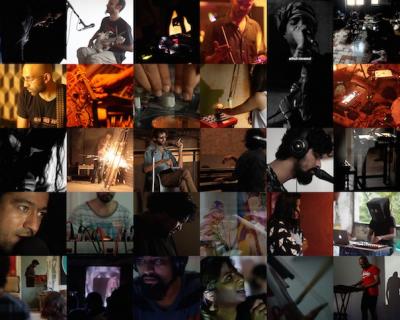 Published on May 03, 2017
Last updated on June 03, 2019
Biography
Rana Ghose is a curator, economist, writer, and filmmaker. He steers the REProduce collective, a group of twelve musicians that mostly perform in the context of electronic music production. His current focus is REProduce Listening Room, a series of interventions in non traditional spaces that engages with music and video in modular, sequential plays – taking advantage of the aesthetics of spaces as varied as former mills, bakeries, and hotels and producing them into five hour embedded experiences where up to eight different performances unfold. His doctoral research was on risk constructions in a regulatory context, and the underlying dynamics of how we explore uncertainty. The theoretical framework of this research underpins his explorations in performative spaces and the capital intensive model that generates arenas that may or may not suit the wide range of artistic expression that a country like India increasingly generates, and how patrons and sponsorship models interact within the uncertainty that the resultant incentives present. He is based in New Delhi, India.
All Topics