Fátima, Maria und der Schwarzmetall
Metal Autor Pierre Hecker besucht Fátima, den bedeutendsten Wallfahrtsort Portugal und fühlt sich dabei nicht ganz wohl. Als ihm ein paar Black-Metal-Fans beim Vorbeigehen fröhlich zu grinsen, nimmt er seine tiefe Verstörung zum Anlass, um über Verstörungen der Öffentlichkeit mit dem Schwarzmetall-Genre zu nachzudenken. Den Besuch des Jesus-Themenparks schlägt er aus, offeriert uns aber dafür spannende Literaturtipps.
«Uff, endlich ein paar normale Menschen hier», schoss es mir erleichtert durch den Kopf, als mir am Eingang zur Kirche der Heiligsten Dreifaltigkeit drei junge, langhaarige Schwarzmetaller in ihren Mayhem-, Slayer- und Satyricon-T-Shirts entgegenkamen und mir im Vorbeigehen fröhlich zugrinsten. Der vorangegangene Vormittag hatte mir schwer zugesetzt. Hatte es je eine europäische Aufklärung gegeben? Oder wenigstens eine von ihr geprägte kritische Theologie? Offensichtlich nicht. Zumindest nicht hier im Sonnen beschienenen Städtchen Fátima. Jener Ort, im Zentrum Portugals, der seinen Namen zu Ehren der schönen arabischen Prinzessin trägt, die in den Tagen der Reconquista zum wahren Glauben – in diesem Fall der Katholizismus – fand, sich taufen liess und ihrem adligen Entführer viele Kinder schenkte. Das Reich der Legenden ist gross.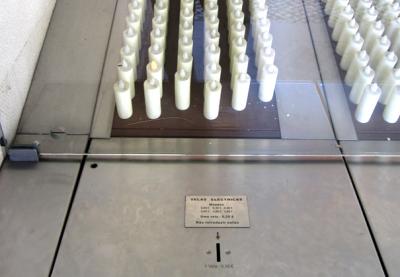 Nun ist es nicht die hübsche arabische Prinzessin, die Fátima zum bedeutendsten Wallfahrtsort Portugals macht, sondern die den drei armen Hirtenkindern im Sommer 1917 erschienene Mutter Gottes. Längst sind diese Hirtenkinder tot und seliggesprochen (zwei von ihnen dahingerafft von der Spanischen Grippe der Jahre 1919/20). Auf dem Ort der Erscheinung steht eine weiss strahlende Basilika; und der Kult um die Jungfrau Maria blüht. Der Glaube an Wunderheilung und Erlösung treibt die Gläubigen in Scharen an den Opferkerzenspendenautomat fürs Seelenheil der Hirtenkinder, lässt sie auf Knien über den Steinboden zur Basilika rutschen, Kerzen verbrennen und den Rosenkranz beten. Davor oder danach bleibt noch reichlich Gelegenheit sich in einem der zahllosen Andenkenshops mit Devotionaliennippes aus Holz und Plastik einzudecken. Unvergessen wird mir persönlich der junge Priesterschüler bleiben, der mir in der schon erwähnten Kirche der Heiligsten Dreifaltigkeit mit strahlenden Augen vom neu eingerichteten Jesus-Themenpark in Fátima erzählte, den ich unbedingt mit meinen Kindern besuchen müsse. Nun lag es mir auf der Zunge, zu entgegnen, dass ich kein Fan von Märchenparks sei, schluckte den Impuls aber noch rechtzeitig hinunter. Was blieb, war ein Gefühl tiefer Verstörung über den aus meiner Sicht kollektiven Realitätsverlust der mich umgebenden Pilger; was mich nun auch zurückbringt zum Thema dieses Beitrags: Black Metal.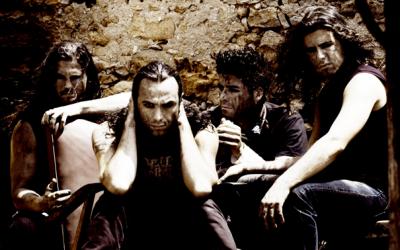 Auch hier geht es um Verstörung, genauer gesagt, um die Verstörung einer Öffentlichkeit, die mit der musikalischen wie ideologischen Radikalität des Genres nicht umzugehen weiss. Es gäbe noch viel zu Schreiben über die Ironie gerade an einem Wallfahrtsort auf drei Vertreter des globalen Schwarzmetalls zu treffen, über deren vermeintlich fröhliches Wesen oder auch über das beruhigende Gefühl, welches die Begegnung in mir auslöste, ob der Gewissheit wenigstens ein paar Menschen getroffen zu haben, die christliche Mythen in Frage stellen. Allerdings scheint es an dieser Stelle angebracht, endlich einige allgemeine Worte über Black Metal zu verlieren.
Die Bezeichnung black metal geht auf den gleichnamigen Titel eines Albums der britischen Band Venom aus dem Jahr 1982 zurück. Venom gelten heute zusammen mit Bathory aus Schweden und Celtic Frost aus der Schweiz als die Urväter des Black Metal. Internationales Aufsehen erregte die Szene allerdings erst zu Beginn der 1990er Jahre als, wie in der vorgestellten Dokumentation Until The Light Takes Us thematisiert, in Norwegen die ersten Kirchen brannten und Mitglieder der Szene ihre anti-christlichen, neo-paganen Ansichten in die Tat umzusetzen begannen (der Film wird gezeigt am 4. Norient Musikfilm Festival in Bern). Seitdem wurden dem Black Metal zahlreiche ideologische Extreme wie Misanthropie, Paganismus, Satanismus, Arianismus, Rassismus, Nationalsozialismus, Antisemitismus oder der Hass auf Homosexuelle zugeschrieben; nicht zuletzt, weil sich viele Protagonisten der Szene in ihrem Streben, die letzten Grenzen zu überschreiten, genau dort verorteten.
Die Idee, Black Metal entlang ideologischer Leitlinien klassifizieren zu wollen, greift allerdings schon deshalb zu kurz, da innerhalb der Szene eine ausgeprägte Uneinigkeit darüber besteht, ob Ideologie überhaupt etwas mit Black Metal zu tun habe. Black Metal müsse man fühlen und die vermeintlich ideologischen Repräsentationen in Interviewäusserungen und Songtexten seien bedeutungslos oder zumindest nur von rein emotionaler und metaphorischer Bedeutung – so jedenfalls die Argumentation nicht weniger Musiker und Szenegänger. Die Frage nach der Essenz des Black Metal statt über ideologische mittels ästhetischer Grenzen zu beantworten, liegt deshalb nahe, ist aber ebenfalls nur bedingt befriedigend: Viele der visuellen, akustischen und verbalen «Black-Metal-Marker» korrelieren mit denen anderer Heavy-Metal-Sub-Genres (lange Haare, schwarze Kleidung, Tätowierungen, anti-religiöse oder religionskritische Referenzen, verzerrte Sounds, shrieking und growling vocals etc.).
Black Metal ist wesentlich komplexer, heterogener und vor allem ambivalenter als auf den ersten Blick angenommen werden kann. Dies zeigt eine stetig wachsende Anzahl von Studien, die sich aus religionswissenschaftlicher, politikwissenschaftlicher, soziologischer oder auch philosophischer Perspektive mit dem Phänomen auseinandersetzen. Zu empfehlen seien in diesem Zusammenhang die Arbeiten von Anna-Katharina Höpflinger über Religion und Black Metal in der Schweiz, von Karl Spracklen und Caroline Lucas über True Aryan Black Metal bzw. Black Metal und White Power in Grossbritannien, von Keith Kahn-Harris über Black Metal in Israel, von Laura Wiebe Taylor über National Socialist Black Metal in Norwegen oder von Mikael Sarelin über Queer Black Metal in Finnland. Auch hier ist das Reich der Legenden gross, nicht zuletzt, weil sich auch der Black Metal in im Bereich der (neo-paganen) Mythenbildung hervortut.
Published on December 21, 2012
Last updated on September 04, 2019
Biography
Pierre Hecker hat 2012 das sehr empfehlenswerte Buch «Turkish Metal – Musik, Meaning, and Morality in a Muslim Society» (Ashgate) herausgegeben. Er arbeitet als wissenschaftlicher Mitarbeiter am Zentrum für Nah- und Mittelost-Studien an der Universität Marburg.
Topics
All Topics