Protest Music in Hong Kong
The umbrella has become the symbol of ongoing protests in Hong Kong. It appears in the art of a growing protest movement. New songs accompany the demonstrations, and speak out peacefully for democracy. A round-up of protest videos from Hong Kong.
There is obviously a lot of unjustified violence against protesters in Hong Kong recently and it is important to write about it and make things visible. Non the less it is also important to think in long terms how fighting for democracy can continue in various ways. It seems that the Umbrella Movement lead to a new self consciousness of Hong Kong's youth and specially gave way to all kinds of creative expressions. As time and space is rare and expensive usually, by claiming the streets people face themselves with a new situation. There is plenty of space and time for arts, creativity is used to keep the movement interesting and affirms the positive image western news got of the «best behaved protesters in the world». Not only could they perfectly organise supply of food and medical service as well as cleaning up after themselves, they are also capable of producing some interesting pieces of art.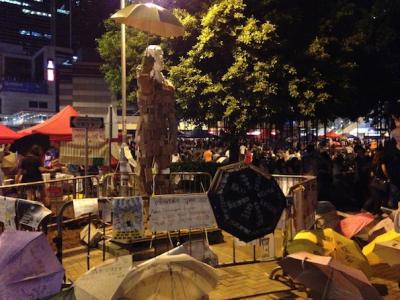 From sculptures with umbrellas to paintings and performances on the streets to variations of the yellow ribbon in all sizes everything seems possible. In this text the focus should be on the role of music for the protests as well as the possibilities of a new genre of Hong Kong protest songs.
Besides signs as the yellow ribbon or the umbrella, music plays an initial role for the Umbrella Movement. First there is this 1993 HK-Rock song called «Boundless Oceans Vast Skies» by the group Beyond, that became the anthem of the protests. It is a powerful and emotional rock ballad in a typical 90s style, with a chorus that is sung by the protesters over and over again.
It creates a strong feeling of togetherness and combines melancholy and nostalgia for the old colonial days with hope for a better future and the will to fight for ones ideals. Its chorus is vaguely translated with «Forgive me for loving freedom all my life/ Though I'm afraid of falling one day/ Anyone can give up one's ideals/ But I won't fear even if there's just you and me.» Needless to say that this might be the essence of what people on the streets of Hong Kong are feeling now.
A complete different song that is heard often at the protests is a happy birthday song. It is sung to every anti-occupy person (with blue ribbons) who wants to insult or even attack the students. Whenever somebody tries to provoke a fight people respond with a happy birthday song. It is a funny and almost dadaistic response with a strong effect that does make the insulting party look quite stupid.
Of course there is a lot of new songs written by younger musicians from Hong Kong's indie scene. Here I can only give a small selection and hopefully there is much more to come. There is a song by Michael Lai & Stephen Mok called «I promise you an umbrella», that sounds so gentle, it could only be a protest song in Hong Kong, where people fight for democracy with kindness.
A song with participation of various musician was released by the Umbrella Revolution channel on YouTube. Its title could be translated «to hold an umbrella». It's «we-are-the-world-style» stands for the diversity of different voices in real democracy brought together in the chorus.
While the music video for this song was blocked by government censorship in mainland china, this melody might sound familiar due to its origin in the musical «Les Misérables».
This video shows Hong Kong's long tradition in claiming the streets for democracy.
«When you believe» is well harmonised with some footage of protest-chant recorded in Admiralty.
There is a song by David Cheng showing quite some british humour as its title is vaguely translated by «I worry that you get angry if I tell you how f**king stupid you are» telling the story of a guy swearing at his friend for believing everything the pro- government media is reporting. Singer-songwriter Winnie Lau already dedicated her song «Little Dreamers» to the pro-democracy marches on the 1st of July 2014, when she played a concert in Switzerland. Back in Hong Kong she plays music on the streets.
Electronic artist Choi Sai Ho combines video footage with his exciting techno music, that makes Hong Kongs density and fast pace tangible. He relesed a few songs during the protests already, for example time lapses showing Harcourt Road in Admiralty called «Umbrella Tree» or «People» on Nathan Road, Mong Kok. A list with more songs which are either written for the Umbrella Movement or due to content and popularity became important for it can be seen here.
It is interesting but not surprising, that most of the songs are gentle and not aggressive. They are emotional and have pathos, they express determination and the will to fight, but it is clearly nonviolent. Most of them start quiet and get more sound and volume slowly but continuously.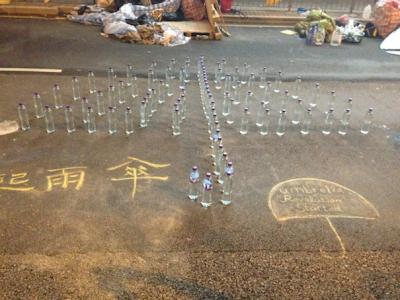 Looking back to Hong Kong's canto pop tradition a term like «Soft Rock Revolution» seems appropriate. And as its newer generation as My Little Airport and Chochuckmo might be more influenced by twee pop and such «Tweevolution» also could be the name of a new genre that is about to evolve. Both sounds quite silly, so lets call it Umbrella Music. However, what are the chances and possibilities of Umbrella Music? How can it last and keep the movement alive, even if the streets are cleaned out?
First, I think, it shouldn't limit itself by any musical dogmas but instead make sure that the message of the songs is there. Any musical style could support the movement as long as it speaks out for democracy. There are tons of pop music now from the mainland and most of it serves the purpose of keeping the people happy to consume and work for Chinas «turbo capitalism» that fills the pockets of the communist party.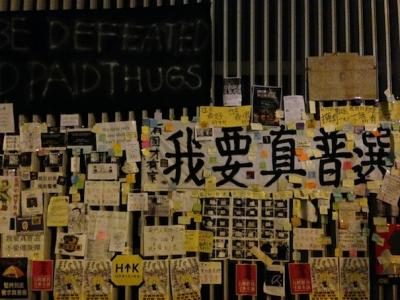 Second it should express peoples emotions and reflect on society. It should be democratic and there should be discourse with different styles and opinions. Songs should relate to each other or actual happenings and not just give expression to individual wishes for fame and fortune.
Third songs should be played and performed in public as well as being spread online. It is important that people from all over the world can listen to the songs and understand, that this music is actual protest music. This will help keep the international media interested in what is happening in Hong Kong's politics.
And last but not least it should never exclude people or styles for being uncool or different. There should be Umbrella Music for everyone, just like everyone could join and support the protest by simply wearing a yellow ribbon. So, I am very much looking forward to hear from you, my democratic friends in Hong Kong!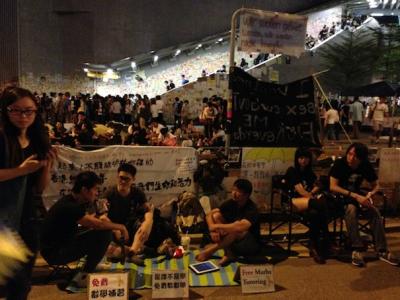 Published on October 17, 2014
Last updated on November 14, 2019
Biography
Andrin Uetz has studied musicology and philosophy at the University of Basel. In his PhD dissertation he explores the soundscapes of Hong Kong. He combines a promenadological approach to urban studies with binaural field recordings. His research is part of the SNF-project «Sound, Density, and the Environment» at the University of Berne supervised by Britta Sweers. He also sings and plays guitar in the band Subito Zeitlos.
All Topics