Four years after the overthrow of Milosevic, the Belgrade music scene shows different facets. While the ancient oppositionradio B92 is mainly looking for sponsors, a young rap generation is about to parody the mafia- and machist-society in "nationalistic" turbo-folk and is meshing overregional networks. Meanwhile Serbian ethno- and Roma-music is said to make a breakthrough in the international musicmarket. Not to everybody's joy, though.
We come from the marshy Belgradian no man's land, the romany partyboat "black panther", at the bank of the Save. Below deck they serve "pivo domestic", local beer, and kitschy accordeon- and syntersizer-versions from Dizzy Gillespies "a night in Tunisia" to Simon and Garfunkels "el condor pasa". Until our tablemate Walther, a dubious Italian commercial traveller, starts to recite his strange rankings: "Russia no.1, Serbia no.2, Croatia problem, Macedonia problem." Then: "For a serb counts: firstly, heart, secondly, friends, thirdly, money." A little later: " firstly, dancing, secondly, woman, thirdly, beer, fourthly, food." Time to leave.
Early Friday mornig we stand at the bank of the Dunabe, opposite of the Belgrade castle, finally on solid ground. Our shoes still muddy, socks wet. 8 degrees below zero not more. A few beerstinking teenagers hang around. And get on our nerves: four years ago, mafiafriends of Slobodan Milosevic enjoyed themselves with their sluts in the about 20 lightened boats there. Even today, expensive cars are parked in front of the wabbely landing stages. Way too loud tecno- and rockmusic with Turkish-Arabic elements booms out to the riverside. Inside some boats, teens and twens enjoy themselves, in others the 30- to 40-year old. Equipped with silicon-tits, some women produce themselves in leopard-costumes and minis in front of their beerdrinking (boy) friends. With boring faces the partymusicians play. The female singer puts up an artificial orientalism and lascivious moans. Everything mafia, everything macho – this is Belgrade. But only a part of it.
"It's hard to live here"
On october 5th 2000, Slobodan Milosevic lost his power in Serbia. From everywhere in the country people came to Belgrade on that memorable day to overthrow their unpopular dictator. Eight years before, the opposition already collected 840'000 signatures in the 2 million Capital city to remove him – known to have been without success. Many young men hid themselves afterwards – and alredy even before – in foreign houses, in order not to be called up for war. Young intellectuals and artists left the country or became victims of drugs in their "no future"- depression. Drugs were easy to get in Belgade. Today the generation of the 30-years old is missing in the cultural life of the city. And many of those who stayed are not interested in politics or don't want to know about the latest wrangling in the elections. The number of the working poor has risen. "It's hard to live here", the 24-years- old rapper "Boi Se" alias MC Shorty says: "Abroad, we Serbs are looked at as killers. But it's the politicians who make war. In the nineties, Milosevic systematically released criminals out of the prisons to put them in leading government positons." Shorty would like to study gaphic-design and to live a normal life. He doesn't know how he shall pay the schooltax with his 200 euro monthly. "I live alone in this damn world. I should move abroad. But somehow, I need my city."
In the war years under Milosevic (1990-2000) the press worked as an extentioned arm of the regime. Via Pink TV the orientalising turbo folk advanced – which is still being played today on the partyboats in a "light" version – to a mediumistic expression of the macho- and mafia-culture in Belgrade. Almost all singers of this genre were married to mafia-bosses – which only increased their popularity. Svetlana 'Ceca' Raznatovic, queen of this genre, married the famous and feared "Arkan", war criminal and head of the tiger-militia. After the murder of prime minister Zoran Djindic on march 12th of last year, the starsinger was put in prison for four months. The principal presumed murder is said to have walked in and out of her villa. Most of the times, turbo-folk was about love. From time to time, Europe or the USA were called fascists and the Serbian army was driven to more heroic deeds.
Friday. Eleven o'clock. In the elegant café "plato" we meet Ksenjia Stevanovic. The musicologist is looking for explanations: "The mafious nouveau riche were the only ones with money during the war: so, young female Serbs squeezed themselves into shortest minis, put too much make-up on and made a pass at the crooks, " she says. Today turbo-folk wants to get rid of its nationalistic image. The music sounds more like MTV and less oriental: "today stars like Jelena Karleusa, who was a partner of a famous drugdealer and carsmuggler in the nineties, produces complicated, international albums and finds its audience even in Bosnia and Croatia." The other way round, stars from Croatia, Bosnia and Macedonia sell their artificially produced pop, tecno and commercial rock 100'000 times in Belgrade.
Legendary alternative music scene
Late evening, a snowstorm arrives. Slush, ankle deep. We're on our way back to the city-center. In a cold rehearsal room, two women of the group E-play scream into the microphones as if they would like to get rid of their Belgradian frustration in one go – a loud protest against the kitsch of turbo-folk. A few meters away, we find one club next to the other. In "Akademija", an underground-cultclub of Europe in the eighties, abstract electronic sounds and beats wander through the dark subterranean labyrinth. Just opposite, in "Basement", the partycommunity dances to a blend of retro-tecno and alternative rock. Again, across the steet a jazzrock-band plays while in "Andergraund", in the catacombs of the white castle, punks and poppers twist their limbs to stomping tecno and a show-hairdresser cuts hair on a purple lightened platform.
Alternative musicscene in Belgrade is legendary. Rockbands like Eyesburn, Darkwood Dub, Jarboli, Block out, Flip out, electronic artists like Belgradeyard Sound System and DJ's like Marco Nastic or Bojan Mitrovic don't have anything to do with turbo-folk. Their most important partner until today is the radiostation B92. Four times, the channel of the oposition was forbidden in the nineties, but called for the demonstration in October 2000 to overthrow Milosevic. During the following withdrawal of many international peace- and press-organisations, the channel lost important sponsors and has to promote in a new way today: Meanwhile, B92 owns its own TV-channel, a music label and an internet-provider. "In the past, we fought against the regime, today for sponsors", says Gordan Paunovic, a B92 oldie who gets to the heart of the development. Since 1989, the station which has shocked from Belgrade or other cultural-centers of the world with indie-rock, punk, new wave and hip hop, got pleasing in the last years. "During the day we have a playlist. We only play special sounds in the evening. That's why I don't work as a music-editor anymore", Paunovic says and bursts out laughing.
Hip hop-politics and turbo-folk-parodies
The music generation of the twenty-year-olds observes the development of B92 in a critical way. Many go into raptures for SKC, the alternative radiostation from the student cultural-center. "B92 doesn't distinguish itself much from Pink TV", one says. But everytime it is mentioned that without B92, not much would run today, either culturally or politically. Many young people listen to rap. A few produce it. "In the war years we rappers were in a difficult position", the 27 year old Djordje Jovanovic of Beogradski Sindicat remembers: "The alternative rockbands preached in their songs to wait in Belgrade, for times would get better. We were rapping about the abominations of Milosevic". After his overthrow, Beogradski Sindicat caused a sensation with their hitsingle "beef". They listed politicians of all camps and mentioned their dirty business and affairs. The rapper collective was invited to a TV-talkshow together with the ancient Yugoslavian President Vojislav Kostunica. Since then, Beogradski Sindicat are cult.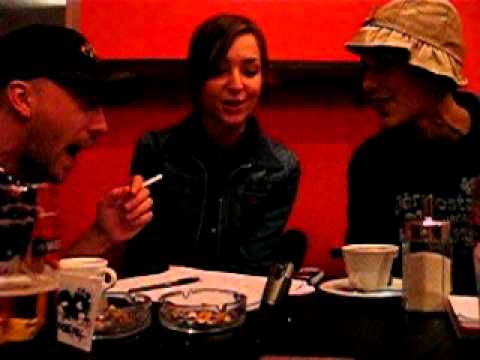 Talented rapbands like Skabo, Ajs Nigrutin, Bad Copy and Bitcharke Na Travi talk politics indirectly. In Serbian – "fuck English" – they parody the mafia- and porno-society of turbo-folk and are pleased, says Timbe from Bad Copy, "when the nouveau riche in their villas sing our chorus-lines without realizing that we take the piss out of them." Even though the rappers Una and Marija from the duo Bitcharke Na Travi more often rap about male and female sexual organs than about politics, they don't lean against the commercial hip hop-culture of the US, but rather comment local realities in society. "Our verbal attacs point towards the 'sponsor-chicks' of turbo-folk who are willing to do everything with old nouveau riche", says the 21 years old Una, smerking. "We analize gender roles and mark the self-confident, strong woman."


Andreja Milkic and Sandra Pajovic of the more commercial rap label 'Bassivity Music' have defined their goals: "We want to bring hip hop into mainstream", they say self-cofident. It's not easy: The big TV stations only play videoclips of their own labels – except if you pay or have connections. The new residential international major labels fight hard that the new Serbian antipirate-law becomes effective. "The pirates went to the internet", the musicjounalist Dragan Kramer grins: "At least one third of the products still finds its illegal way to the buyer." 'Bassivity Music' stays on solo effort: "At times, we sponsor our concerts with Mc Donalds or Reebok, download our software for free from the internet and put on overregional network", the makers of the label explain. MC Shorty, V.I.P. and Marcello, three of their shootingstars, perform in close foreign countries, for example in Croatia: "Nationalism doesn't interess anybody here", they say unanimous. "We want to be part of this word. We want to travel abroad without a visa."
Transnational networking
Cultural export and interchange in the music scene of Belgrade are more than empty words. Darkwood Dub for example thanks the tape-pirates who delivered the latest cds of the group to their fans in Croatia during war. And Relja Bobic of Belgradeyard Sound Sytem as well as Ksenija Stevanovic put on intercultural dialog in the internet with the Serb-croatian webplatform "Explicit Music". Each year, Bobic invites electo-artists from near and even from far away foreign countries to the dispatch-festival in Belgrade and cooperates with international culture-institutions. Once he even asked the ministry for a deficit-guarantee but had to wait for the money for almost a year.
About ethno-boom and Balkan-prejudice
Saturday at noon we sit in the cinema Akademija 28 with intellectuals and listen to the concert of the Romany-band Kal. A cityhippie is filming with a digital camera. Others freeze the movements of the seven well-dressed men with their flashlights while the musicians play their comprehensible music with a few chords. A belly-dancer without belly whirls across the stage. The audience is pleased – until they are invited to dance too. The first row of seats refuses: The audience does not belong to it, it consumes. The rural balkan-music appears to be exotic to the metropolitans.
At the moment, the biggest export business belongs to the Serbian ethno- and Roma-music. "How lucky that turbo-folk never took elements out of traditional Serbian music but mainliy wrapped traditional pop-songs into it. This music became popular after the second world war" the music-ethnologist Iva Nenic tells us: "Our traditional music is not seen as a nationalistic instrument of politics. Lately, it is even considered as chic in Belgrade, to listen to traditional music. But more its approachable versions."
Also responsable for this "boom" is Bojan Djordjevic, who has put together the two cds "Serbia: sounds global" for B92. Each year, he invites musicians from the traditional-ensemble to his "Ring Ring Festival" to Belgrade and infiltrates musicians like Boban Markovic Orkestar into the international world music scene. This wasn't easy: "The international labels dictate what will be taken into the market."
Roma-musicians, like the legendary Olah Vince, are attacking: "It is about time that we step into the limelight. Not Goran Bregovic, who has stolen our music and makes a lot of money with it." For years, Vince fights for Roma rights. His conclusion: "The Serbs don't like roma. We can only infiltrate our music abroad – or serve in restaurants. I see black for the Roma-, the Serbian and the whole of Balkan questions for the next thousand years at least."
Also the alternative music scene doesn't consider the ethno-boom as something positive only: Some are afraid that with these exports old clichés from Kusturica-movies are brought up. Others think that these new ethno-ethusiasts only go after the money and wishes of the international promoters of culture. Actually, many musicians in Belgrade would like to show the world that Serbia has more to offer than nationalism, slushy-pop and ethno-music.
The latter would also apply for this city which is not easy to understand. The Belgrade scene of music is various, and has potential. But it is still waiting for the real springtime.
Five o'clock in the afternoon. Our time is short before our last appointment in Belgrade: return flight.
English Translation: Karin Lüdi
Pictures and Video: Martin Bichsel