Joke Lanz alias Sudden Infant rüttelt mit einer düster-poetischen, kindlich-dadaistischen und sehr körperlichen Geräuschmusik auf. Soeben ist ein Buch über ihn erschienen.
Seit den 1980er-Jahren erforscht Joke Lanz die Klänge des Alltag und verarbeitet sie zu heftigen Geräuschlandschaften. Soeben hat Marhaug Forlag das Buch «Noise in My Head – The Actionistic Music and Art of Joke Lanz» veröffentlicht. Norient hat ihn in Lausanne getroffen, wo er mit einer Plattenspieler-Performance eine Modeschau vertonte. Joke Lanz versucht eine Annäherung an seine eigene Musik. Zudem sehen wir Ausschnitte von seiner Performance am Ear We Are Festival 2011 in Biel: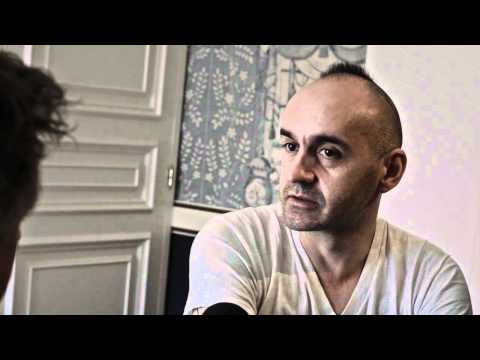 Seit 1986 arbeitet Joke Lanz solo oder in verschiedenen Formationen als Noise Musiker. In der globalen Szene für Aufsehen gesorgt, hat sicherlich die Schimpfluch-Gruppe. Mit dabei Rudolf Eb.er (Runzelstirn und Gurgelstock), Dave Phillips (unter anderem Mitbegründer der Schweizer Grindcore-Legende Fear of God) und Daniel Löwenbrück (auf dessen Tochnit Aleph Label viele Veröffentlichungen erhältlich sind). Von 1989 bis 1995 produzierte er mit Rudolf Eb.er und zahlreichen Gästen die experimentelle Radiosendung «Psychic Rally» auf dem Zürcher Community Radio LoRa. Heute wohnt er in Berlin, begonnen haben seine musikalischen Experimente in Zürich.
Joke Lanz erzählt, wie seine Biografie, seine Musik beeinflusst hat:
Musikvideo: Adobe Flash Player (Version 9 oder höher) wird benötigt um dieses Musikvideo abzuspielen. Die aktuellste Version steht hier zum herunterladen bereit. Außerdem muss JavaScript in Ihrem Browser aktiviert sein.
Seit 25 Jahren arbeitet Joke Lanz mit Lärm. Er spielt den Lärm heute jedoch anders als vor einem Vierteljahrhundert:
Musikvideo: Adobe Flash Player (Version 9 oder höher) wird benötigt um dieses Musikvideo abzuspielen. Die aktuellste Version steht hier zum herunterladen bereit. Außerdem muss JavaScript in Ihrem Browser aktiviert sein.
Am 14. März 2008 trat Joke Lanz als Sudden Infant am «Unyazi 2: Fear of the Known – Festival of Extreme Listening» im südafrikanischen Stellenbosch auf:
Nicht nur sein künstlerischer Ansatz hat sich verändert, sondern auch das Geschäft der Noise Musik. Auffallend ist für Joke Lanz auch, wie die Menschen sein Sudden Infant Projekt heute ganz anders wahrnehmen als am Anfang seiner Laufbahn:
Musikvideo: Adobe Flash Player (Version 9 oder höher) wird benötigt um dieses Musikvideo abzuspielen. Die aktuellste Version steht hier zum herunterladen bereit. Außerdem muss JavaScript in Ihrem Browser aktiviert sein.
Das Gespräch in Lausanne und die Videoaufnahmen in Biel fanden im Rahmen des Norient Projekts Sonic Traces: From Switzerland statt.